You're driving down the road and pass two tractor trailers.  The first is an ordinary silver truck with the company's logo written across the middle of its trailer.  The other is a 53' tractor trailer displaying a picture of the World Trade Center, Statue of Liberty, Flag of Honor, the four planes that were high jacked on 9/11 and a list of names representing all those who lost their lives as a result of that day.  Which truck catches your eye?
For years, individuals and businesses have been showing their support towards various causes and organizations, some doing so in unique and creative ways.
Breast cancer is one of the most popular charities in which awareness is being spread for and perhaps one of the most eye-catching ways people are helping spread awareness is by turning their vehicles pink.
Fire Trucks:
In 2007, the "Pink Heals Tour" and "Cares Enough to Wear Pink" was launched with an incentive to "deliver hope, love, support, and awareness to those battling cancer." 1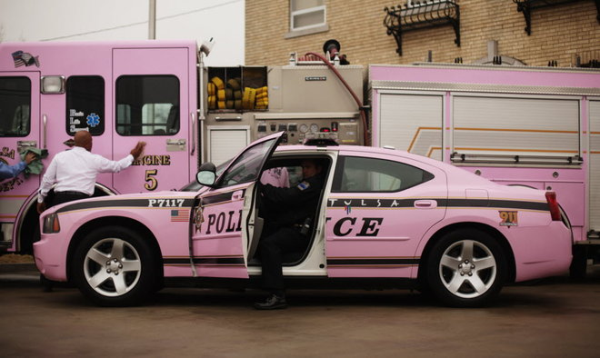 The Pink Heals Tour lasts up to three months, featuring firefighters who dub themselves in pink uniforms and travel to communities in pink fire trucks displaying messages of support from family and friends of cancer victims free of charge (sponsored by proceeds from their online store). 1
Police Cars:
"Cares Enough to Wear Pink" also features pink police cars.
Last year, the Tulsa Police Department joined the initiative against breast cancer, painting one of their squad cars pink in an effort to remind women to schedule an exam.  The car contains an image of an angel pin that Jennifer Mansell, one of the department's officers who passed away from the disease, always wore which displayed the words, "Angel Backup," in her memory and is driven by one of the department's officers, whose mother is a breast cancer survivor. 2
Garbage Trucks:
Nearly three months ago, Kelly Buffalino, a breast cancer survivor who runs a new commercial garbage company, Coastal Ladies Carting, turned their garbage trucks and driver uniforms pink to help fight breast cancer. 3
Tractor:
Not only are businesses but individuals showing their support as well.
Back in 2009, Kansas farmer Harold Denholm decided to honor his wife, who had passed on from breast cancer three years prior, working with his son to fix up and paint pink their tractor, renaming it "Mom's Tractor."  The tractor, which also contains the 'Hope for a Cure' ribbon as well as an umbrella with the words 'In Memory of Mom,' quickly gained the attention of the community and Denholm was asked to drive his tractor in local events, such as parades, to help remind women to get their mammograms.4
Trucking:
Road Scholar Transport is taking charitable awareness in the trucking industry to the next level.   In fact, no other trucking company is currently spreading awareness for twenty-one different charities/organizations.
And how are we doing this?  By utilizing the thing our company is built on…tractor trailers.
Road Scholar created the 10 Million Miles to a Cure Awareness Program, in
which we dedicated a fleet of tractor trailers to spreading awareness for specific charities/organizations, vowing to travel 10 million miles in doing so.  Road Scholar's trucks are on the road 24 hours a day, 7 days a week, 365 days a year.
But how did the idea come about?
It all started on a Saturday morning back in October 2007.  Jim Barrett, President of Road Scholar Transport, was taking some heat from his wife and daughters who insisted he could take an hour off of work to participate in a breast cancer walk they were going to.  Becoming frustrated at his inability to do so, they left to attend the walk without him.
But what they didn't expect was what Jim would do whilst they were gone.
Pondering what his family had said, Jim decided he was going to one up them, so he walked across the street to a company who sells tractor trailers and told one of their employees that he wanted to buy a brand new trailer…that is under one condition.  They had to paint it pink.
He then went to a decal place and told them that he wanted an eight foot tall oval ribbon with a white background.  And there you had it.  Jim now had himself a pink breast cancer awareness truck.
He then said to his wife, "Anyone could put on a pink shirt or a pink band around their wrist.  Go try an 80,000 pound tractor trailer all pinked up for breast cancer awareness."  His goal was accomplished, he one upped his wife.
Messages cover both sides of this trailer, signed by cancer survivors, their families, and friends who gather at awareness events across the nation to get a glimpse of this rolling awareness campaign and spread their messages of hope.
Road Scholar's second awareness truck came when Greg Kearch, a former driver, was diagnosed with prostate cancer.  This led Jim to create a teal trailer dedicated to prostate cancer awareness.  Side-by-side, the pink and teal trailers looked pretty good and stood apart from the rest of the fleet.
By then, Road Scholar's pink breast cancer truck was capturing the eyes and support of many, one of them being NBC past President Bob Wright.  Wright and his wife Suzanne co-founded Autism Speaks after their grandson was diagnosed with autism.  Jim sat and collaborated with them and the Autism Speaks Foundation and decided to help spread the word, thus creating the Autism Speaks trailer.
From there, more and more requests poured in.  Jim worked together with Liz Scott, who founded the Alex's Lemonade Stand Foundation after her 8-year-old daughter Alex passed away from cancer, and developed an awareness truck for this organization as well.
Then one day, Jim was meeting with a man at a pizza restaurant who was requesting a trailer for the Children's Craniofacial Foundation, an organization for kids that have severe deformities on their face when they are born.  Jim, being extremely busy at the time, arranged for them to meet again in a month or two to discuss it.  But as the two of them were walking out of the empty restaurant, something ironic happened.  In walked a girl who clearly had a facial disability and Jim's jaw quickly dropped.
"It was a divine message.  That was not an accident that this girl walked in there," he said.  Jim turned towards the man he had went to lunch with and stated, "It's not a question of IF anymore.  We ARE going to do it."  And the Children's Craniofacial Foundation trailer was soon created on behalf of Jeremy Dale, whose father is the chair of the foundation.  "Jeremy was the happiest kid in the world when he saw that truck and I couldn't help but cry," Jim reflected.
As Jim was creating these trailers, he received word that his grandson had been diagnosed with a tumor.  Jim created the Children's Tumor Foundation trailer, placing his grandson's picture on it.
Bill Squires, consultant for the NY Giants, was at an event in which the Children's Tumor Foundation trailer made an appearance, and fell in love with the exhibit.  He told Jim that his son had cystic fibrosis and inquired about a truck for the cause.  Jim, however, had already been discussing the concept of a cystic fibrosis trailer with a friend whose son had been diagnosed and so when Squires brought it up, it was already something he had in the back of his mind to do.
The design of each awareness truck is taken into great consideration, reflecting the values, history, and themes or the organization.  For example, the cystic fibrosis truck displays 65 brightly colored roses, the organization's trademark, after the story of the Weiss brothers, three brothers who were diagnosed with cystic fibrosis.  The one little boy would hear his mother say that they had cystic fibrosis, but he couldn't say it.  Instead, he would say, 'We have 65 roses.'  It stuck," Jim explained.  "The foundation's calendar always has themes of roses but never 65 of them.  So we have 65 roses on the trailer.  At first, we had 64 roses," Jim laughs, "because it is hard to count them all but now we have 65."
View our Cystic Fibrosis truck at the Philadelphia Zoo at http://youtu.be/iytx3mYV0Ww.
Not all of Road Scholar's awareness trucks are medically themed.  Two of Road Scholar's trucks display a very important piece of American history…the 9/11 attacks.
First created was Road Scholar's Flight 93 truck.  The tractor represents the head of an American eagle while the trailer supports the HALO Foundation's 93 Cents for Flight 93 fundraising program along with depicting the names of the 40 lives lost on Flight 93 that day.
This truck has attended memorials and events nationwide, including last April when we volunteered to transport an 84-inch long, 1,143 pound piece of steel, once part of the World Trade Center, to a memorial in Dracut, MA.
The steel was picked up at JFK Airport in Jamaica, NY by Road Scholar driver Mike Duffy and brought back to the Dunmore, PA headquarters, where it was handed over to another Road Scholar driver, Joey Burke, in the Flight 93 truck.
The Flight 93 truck met up with six Lowell Police Department motorcycle officers as well as Lowell and Dracut fire trucks at the Cross Point Towers in Lowell, MA.  The police and fire departments then escorted the truck to Dracut High School, where crowds lined up to get a glimpse of the Flight 93 truck.
After its appearance, the steel had one more stop to make, its final resting place at the Dracut Fire Station.  Once again, crowds lined up to see and touch the steel.  Among those hands were the parents of Captain John Ogonowski.
Ogonowski was the pilot of the first plane that hit the World Trade Center and whose farm is located across from the fire hall.  The steel, however, is not meant to memorialize just Ogonowski but all those victims of 9/11.
The Dracut Historical Society, Dracut Fire Department, and Dracut Police Department began its 9/11 Memorial Project with the goal of it being completed by July 1st.
View a video of this event at http://youtu.be/bQw1wugCPB0.
The second truck depicting American history is the 9/11 Rolling Memorial.
Starting back in 2003 by John Holmgren and his wife as a way of paying tribute to those who lost their lives as a result of the September 11, 2001 attacks, the truck was recreated by Road Scholar Transport and Holmgrem.
The tractor, dubbed "Unit 911," has the title to Darryl Worley's country song "Have You Forgotten," written on the top of each side.
On one side of the tractor lies an image of the Freedom Tower, a blueprint of the completed memorial to be built at the site of the World Trade Center.  On the other side of the tractor written in red are the names of the 1st responders, creating the red stripes in the Flag of Honor with the Statue of Liberty in the background.
Walking to the front of the tractor, you will see an enlarged version of the 9/11 Heroes Stamp resting on the hood.
But perhaps the main component striking tears and appreciation in passerby's eyes is the truck's tractor, which contains all of the names (nearly 3,000) of those who passed away as a result of the 9/11 events, with the image of the World Trade Center overlaying the American flag in the center of the trailer.
In each corner is depicted a plane flying in the sky (one of them being labeled Flight 93, one United Airlines Flight 175, American Airlines Flight 77, and Flight 173) with a list of the crew and passengers who passed away on that particular flight.
Road Scholar also has trucks dedicated to social causes as well.
At a discussion about the effects of bullying and how to stop it during an Abington Heights School meeting in PA, one of the top 5 states in which bullying is reported the greatest, Jim decided that something needed to be done. So he created another awareness trailer, this time to help prevent children from undergoing the harmful effects of bullying.
His daughter Bridget designed what was to be the new "Stop Bullying" trailer.  With her artistic abilities, Bridget incorporated a stop light that one of Abington Heights' students created, and which is hung up in their school, telling people the three things that need to be done: "Stop Bullying, Slow Down and Think, and Go Report Bullying."
The new trailer was soon constructed and makes appearances at schools and events nationwide.
Other causes Road Scholar Transport is currently spreading awareness for include:  International Rett Syndrome Foundation, St. Joseph's Center, American Foundation for the Blind, Pancreatic Cancer Action Network (PANCAN), The American Red Cross, Clayton's Hope (benefiting epilepsy), Make a Wish Foundation, Children's Cancer Recovery Foundation, Northeast Regional Cancer Institute (Rock on Judi H), Parkinson's Disease, and Marley's Mission.
And whilst Road Scholar already has a fleet of awareness trucks traveling the country, we are working on many other upcoming causes as well.  For example, our dog awareness truck will feature our pet photo contest winners and a "Be Part of the Solution" trailer for the Scranton Police Department.
View all of Road Scholar's trucks at www.roadscholarawareness.org, play our awareness matching game at http://www.roadscholar.com/game_matching.php, and help keep the trucks moving at www.roadscholar.com.
Do you know anyone who has suffered from any of these afflictions?  Do you have any ideas on how we can help promote this initiative to help raise awareness?  List your comments below.