Accident prevention, brand equity, liability cases…all good reasons to take the time to review a carrier's safety record before trusting them with your freight.  But many times shippers choose to conduct business with third-parties (brokers), not knowing who is handling their freight, and thus, running the risk of shipping with a trucking company who is on an "alert" status for unsafe driving.
Let's pretend that you (the shipper) are given two options.
Option 1: You can choose a carrier who has been cited for two crashes within the past two years, has a history of citations for faulty equipment, and earlier this year, had a truck ordered off the road for safety issues.
Then you would choose a company such as John Davis Trucking, whose series of violations and unsafe driving have been surfacing after their involvement in an accident which resulted in fatalities last Friday.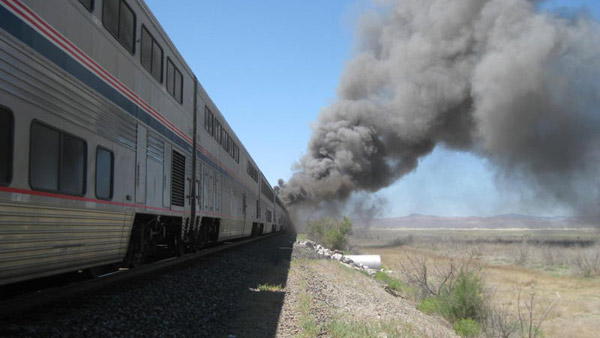 John Davis Trucking, located in Nevada, made the news when it hit two of ten railcars traveling to California.  According to thetrucker.com, the company "skidded the length of a football field before crashing into the train," killing the driver, four passengers, and a conductor.
As National Transportation Safety Board's Earl Weener explained, the driver should have saw the crossing's flashing warning lights from a half-mile away (when traveling at 70-mph) (http://www.thetrucker.com/News/Stories/2011/6/27/TruckcompanyinNevadatrainwreckhadcitations.aspx).
The two trucks following John Davis Trucking managed to stop and although the engineer hit the emergency brake, he was unable to stop in time, as the trucking company crashed through the crossing gates.
Why did this happen?  According to authorities, there are so many scenarios to consider that it may take up to a year to determine the cause, thetrucker.com explains.
But are there suspicions over the trucking company and driver?  The answer is yes.
When looking at John Davis Trucking's safety record, authorities found that this was not the first crash the company had encountered.  In fact, they were cited with two fairly recent crashes, one in October of 2009 and another within four months which led to injuries.
Not only did the company have two accidents within the last two years, but 16 maintenance violations, seven within the past year, and one that took their truck out of service due to the tire threads on the tractor-trailer being exposed, according to thetrucker.com.
In addition to that, the company has been cited for "the driver failing to use a seat belt, an equipment defect on the rig's hydraulic brake system, lane restriction violations, cargo violations that included prohibited hazardous material markings on packages one driver was carrying, and labeling problems" (http://www.thetrucker.com/News/Stories/2011/6/27/TruckcompanyinNevadatrainwreckhadcitations.aspx).
Authorities continue to decipher the exact cause of the accident.
But if you don't like option one there's always…
Option 2: You can choose a carrier who has NEVER been cited for a piece of faulty equipment involved in an accident, has zero alert statuses, anti-crash technology that allows a set distance between the truck and a forward vehicle, and a reputable safety record.
Then you would choose a company such as Road Scholar Transport.  Road Scholar's CSA 2010's Safety Measurement System (SMS) rating, which scores a carrier and driver's safety performance in seven BASIC categories, placing those with a score of 65% or higher on an "alert" status, resulted in zero drug and controlled substance violations and scores way below the 65% mark.
Check out Road Scholar's CSA rating at http://ai.fmcsa.dot.gov/SMS/Data/carrier.aspx?enc=l05Z/rb3sYgqvgOzAB2Xgqm8glUOB4DLxD9aRMx/xK4=
Which option would you choose?